Transformers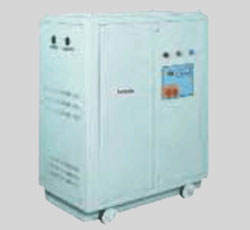 An Isolation Transformer is a device which is use to decouple two circuit, the load to the Isolation Transformer and to the Input supply, Isolation Transformer suppress electrical noise which occurs in transmission line. An Isolation Transformer blocks transmission of DC signal from one circuit to other and allow ac signal to transmit. It also prevent interference cost by ground looping. Isolation Transformers are constructed with two isolated Faraday shields between the primary and secondary windings. Theuse of two shields in the construction of the isolation transformer diverts high frequency noise, which would they occur. The two shields provide more effective isolation of the primary and secondary circuits and also isolation to their grounds.
Common – Mode Noise
» This noise appears between both sides of power line and ground. These High Frequencies noise occurs between ground and conductor.
Transverse – Mode
Transverse – Mode noise is much more difficult to eliminate than common-mode noise. These High magnitudes noise occurs between two conductors due to switching action of equipments.
Switching of electrical utilities like Capacitors, MCCBs.
Welding systems pollutes earthing systems, adds notches and high frequency noises in the wave form,generatingpower quality anomalies.Lightening, precipitation of static charges and electrical discharges in the atmosphere are the natural cause of generation of various electrical noises.Ultra Isolation Transformers are used where high attenuation level is required like Communication Systems, Wireless Station, Sensitive Medical.
Equipments etc., These special type transformers are manufactured by splitting primary and secondary coils results reduction in coupling Capacities in transformer Circuit Common – Mode, Transverse M ode and Electromagnetic. Range: From 40 VA to 40 KVA single phase and 50 VA to 2000 KVA3 phase.
Advantages of Magnetic Clean line Isolation Transformers Very high noise attenuation capacity Reduced coupling capacitance. Lesser leakage current Suitable for higher harmonic loads. Core will not saturate.
Electrical Noises are generated due to
Switching of electrical utilities like Capacitors, MCCBs, ACB's…etc. Larger the inductance of the system and larger the current change during switching, larger the magnitude of electrical noises. The inductive loads like big Motors, Compressors, Overhead Cranes, Elevators, Presses etc. also generates substantial switching noises. Switching equipments like Invertors, Converters, SMPS etc generate electrical noises due to switching of Thyristors, Transistors, Relays etc.
Electrical noises are observed to occur over a wide band of frequency ranging from 1 KHz to 100 MHz and above. In magnitude observed to be as high as 4000 to 6000 Volts on 3 phase supply system. The high frequency noise can interfere with digital electronic equipments causing untraceable data errors, change of programme, loss of memory, erratic behaviour, etc. The high voltage spikes can cause the failure of Thyristors or Transistor, Micro Processors and other.
K Rated Transformers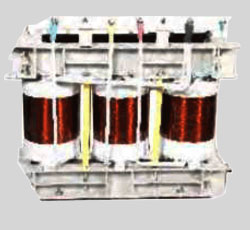 K factor is value used to determine how much harmonic current a transformer can withstand without exceeding its maximum temperature level. Huge numbers of single Phase loads like computers also create non-linear harmonics. A standard Transformers can not handle the harmonics due to non-linear loads. When harmonics enter in to the transformer the core gets saturate as result it produced lot of heat causes the failure of transformer. k-rated transformers are Specially designed to with stand this non-linear harmonics. K-rateing differs according to the harmonic levels like K-1, K-4, K-7, K-13, K-20, etc.,
We are designing our K-Rated Transformers according to its guide lines and Specification given by ANSI C57 standard NFPA-70, UL 1449 and UL 1567. We use high grade CRGO laminations for our K-Rated Transformers. Our K-Rated Transformers are Class-H which will with stand 180 continuously. We use notching type lamination for our K-Rated transformers, because of that our Transformer core will not saturate even in high Voltage.
We also manufacture Aluminum wound Transformers with the same quality to minimize the initial investments Our design will support to maintain the same performance of Copper Transformers in Aluminum Transformers also. We can manufacture Aluminum Wound Transformer Upto 500 KVA .
Technical Specifications
Transformer
Double wound, High Isolation Natural/forced air cooled Primary connect as DELTA, secondary connection as STAR, Double sized neutral, Insulation class "H", Regulation is better than 3.5%. Efficiency of the transformer is minimum 98% Overload rating of 100% for 10 sees. As per IS 2026 standards Attenuation: 80 db CMRR and 60 db CMNR Core of CRGO and conductor of copper.
Power Distribution
Floor mounting Panel board with MS angles and Ms sheets with powder coated Paint and suitable provisions for cable. Suitable capacity 4 pole incomer. Distributed outgoing through sub branch breakers and branch breakers. 3 Extra sub breakers also provided. Metering & Indications Multi parameter reading meter to read Voltages, currents and power is incorporated. LED indications provided to read the availability of incoming supply.